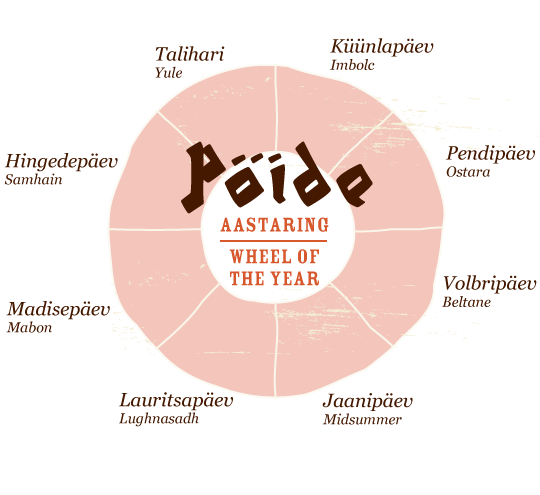 Wheel of the year
The Wheel of the Year is the cycle of seasons in the ancient calendar. Based on the movement of the sun and moon, each period symbolises a different state of the natural world. So, from rich wintery rye to fruity summery hops the weather and the earth, at the time of brewing, have a great influence on our beer.
1.

Yule

21.12 — 01.02

The winter solstice, we celebrate that days grow longer. A new season is born.

2.

Imbolc

02.02 — 20.03

The first stirrings of spring, time for purification. Make a pledge for the coming year.

3.

Ostara

21.03 — 30.04

From now on, days are longer than nights. A good reason to stay up longer and drink to fertility.

4.

Beltane

01.05 — 20.06

Summer kicks in. Dance around a maypole and go berserk a little.

5.

Midsummer

21.06 — 31.07

Midsummer, the nights on Saaremaa are light as days. Nobody goes to sleep.

6.

Lughnasadh

01.08 — 20.09

The first harvest, celebrate the growing rye and all the good stuff we can make of it.

7.

Mabon

21.09 — 30.10

Thank the arduous earth of the island for its fruits and share them with others.

8.

Samhain

31.10 — 20.12

Celebrate the lives of those who have passed on. A festival of darkness.